Academic Achievement. Life Skills. Responsible World Citizenship.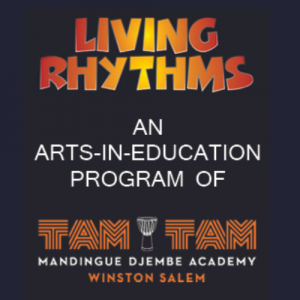 With an authentic imported drum for every student, these powerful educational programs immerse students in both the music and dance of West Africa.
Specifically designed around the Common Core, participants learn rhythms and songs that represent the traditions of several African ethnic groups, then learn dances that historically accompany the musical selections. Strong emphasis is placed on the traditional West African values of respect, community and teamwork. Living Rhythms workshops broaden students' understanding of our increasingly interdependent world, and encourage them to embrace a life of critical thinking.
Mission
It is our mission to enrich the communities we serve by creating flourishing arts programs that positively impact the lives of young people. By exposing students to the music and dance of West Africa, we aim to broaden students' understanding of our increasingly interdependent world, and encourage them to embrace a life of empowerment and critical thinking. The joy and community spirit inherent in drumming and dancing gives students direct access to the concepts of respect, harmony, and responsible world citizenship.
Educational Impact
Common Core Connections
Our programs are specifically designed around the Common Core State Standards. Our programs connect to multiple Anchor Standards for Reading, Speaking and Listening, and Language for K-8 as well as multiple Social Studies and Arts Education Standards for K-8. For the purposes of brevity, we have described here our program's top connections to each set of standards.
Connections to the Common Core State Standards Reading, R4
Interpret words and phrases as they are used in a text, including determining technical, connotative, and figurative meanings, and analyze how specific word choices shape meaning or tone. In our case, scholars identify and respond to key rhythmic phrases that occur in the genre of West African drumming which convey instructions to the musicians to start, stop or change the music.
Connections to the Common Core State Standards Reading, R7
Integrate and evaluate content presented in diverse media and formats, including visually and quantitatively, as well as in words. In our case, evaluate the number and pitch of notes in a rhythmic pattern played on a drum, and demonstrate the ability to integrate the pattern to the degree that the pattern can be reinterpreted and repeated back.
Connections to the Common Core State Standards Reading Foundations, RF4
The comparison between syllabication and rhythm is used as an illustrative tool to help students hear what certain fractions sound like and to expedite a student's ability to learn and perform the music in a short period of time.
Connections to the Common Core State Standards Speaking and Listening, L1
Prepare for and participate effectively in a range of conversations and collaborations with diverse partners, building on others' ideas and expressing their own clearly and persuasively. In our case, responding to a rhythmic idea by creating a complementary pattern, thereby collaborating with fellow participants to create a musical conversation.
Connections to the Common Core State Standards Mathematical Content, Standard 7
Look for and make use of structure – where proficient students look closely to discern a pattern of structure. In our case, students model and apply pattern discernment through the practice of learning rhythmic patterns, and by extending this understanding to build complex musical arrangements.
Connections to the Common Core State Standards International Studies
Students explore the physical and social environments of other cultures while learning to understand and respect cultural pluralism. Students become more aware of the concepts interdependence, and responsible world citizenship through the study of other cultures.
Connections to the Common Core State Standards Music
Students explore a variety of musical concepts such as polyrhythm, meter, tempo and dynamics.
Supporting Research
Neurological Data on Music and Brain Development
There is a rapidly growing body of neurological research directly supporting the impact of music on brain development. These findings show that exposing children to music has educational impacts in the areas of reading, writing, language arts, and mathematics.
Music and Brain Size Development
Musicians have an increased size and function of the corpus callosum area of the brain. The corpus callosum is involved with communication and inter-hemispheric integration of the brain. There is a significant increase in musicians who began studying music as children. (Schlaug G, Janke L, Huan Y, Staiger JF, Stenmeitz H. "Increased Corpus Callosum Size in Musicians." Neuropsychologia 1995; 33:1047-1055)
Reading and Writing
There is an increased volume of the cerebellum in musicians vs. non-musicians. The cerebellum is linked with the ability to interpret written letters and words. (Huchinson S, Lee LHL, Baab N, Schlaug G. "Cerebellar Volume: Gender and Musicianship Effects." Cerebral Cortex 2003, in press.)
Language Arts
CAT scans reveal that listening to music affects both right and left frontal lobes of the brain, which are involved in language production. The ability to keep a steady beat is linked to linguistic development. "Weikert, Phyllis. Movement in Steady Beat. High Scope Educational Research Foundation.
Mathematics
Memorization of intricate patterns increases brain function and memory capacity for math and science. "How to Improve Brain Function" Improve Brain Function, 2010. Web, Oct 18,2011.
Life Skills and Academic Achievement
During our programs students are engaged in an exploration of the cultural, historical and geographical context of the arts they are studying. Connections are drawn between the way traditional West African cultures value empowerment, respect, community, and teamwork and how these values contribute to our success in modern life. The programs incorporate strong elements of creative self-expression and critical thinking, while emphasizing cultural diversity and responsible world citizenship. Our artist educators use the Positive Discipline Parenting and Classroom Management Model based on the work of Dr. Alfred Adler and Dr. Rudolf Dreikurs. At all times scholars are treated with love, respect and dignity – and are encouraged to treat each other in the same manner.
As a culturally diverse arts-based residency, our program encourages the type of transformational creative thinking that enables scholars to solve problems throughout the course of their lives. Our programs help create the type of engagement and empowerment that can propel a scholar to promotion at all grade levels, and ultimately graduate as a successful and productive member of society. Designed to promote literacy learning through the arts, and aligned with the Common Core Standards, our programs give scholars a vehicle to close the achievement gap by applying learning from in-school experiences in a unique and creative way.
Living Rhythms Expertise and Experience
Living Rhythms has provided hands-on residencies, workshops and performances in West African drumming and dancing to over 275,000 students at schools throughout the US for the last 18 years. With differentiated instruction for grades preK-12, our team of artist-educators has a strong history of demonstrated ability to successfully communicate in a school environment with children. The artist-educators on our diverse team have extensive experience and training as educators, and some were teachers in public schools before joining our company. Additionally, each has an impressive personal history of strong artistic accomplishments, studying and performing across Africa, the US and beyond.
For a complete list of schools served, click here!